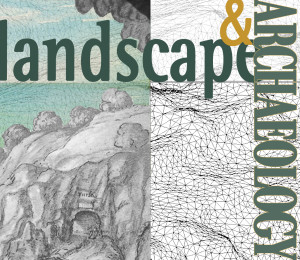 The ancient consular route Flaminia was one of the most important connection between Rome and the towns of Fanum Fortunae and Ariminum on the Adriatic coast. The lands buffering the remnant itinerary is still today a remarkable territorial setting (i.e. archaeological remains, outstanding rural and natural landscapes, ancient and modern infrastructure and heritage). The memory of the ancient Roman Empire is still rooted in this territory, as witnessed by the rich archaeological heritage and the predominant buildings along the way. The need to foster and to maintain such outstanding common patrimony has been motivating for local politicians and public administrators to begin a series of actions highlighting its Roman past. Thanks to the engagement of the centre of Vitruvian Studies (CSV), local administrators acknowledged a joint initiative to start smart cultural and rural-environmental tourism activities. This also raises important questions concerning the revitalisation of territories and their historical heritage, on the demand for a sustainable development and maintenance, in order to strengthen the relationship between dwellers and the palaces they live.
The Uniscape En Route seminar "Landscape & archaeology" will focus on smart and sustainable initiatives in landscape & archaeology.
The "En Route international seminar" series is a tool to promote the European Landscape Convention, addressing both the European-wide academic community and local stakeholders (institutions, politicians, inhabitants, social and economic actors). This provides local landscape actors the opportunity to raise the questions they are facing at home to a wider European context, as well as providing academics the opportunity to present their research to a new audience within a specific landscape context. Thus, by reaching out towards local landscape actors and combining the more academic activities with other thematically related events (site visits, films, exhibits, etc.), the seminars will offer a concrete opportunity for "awareness-raising" (Chapter II-Article 6).
Presentation
In many European countries local cultural heritage is a powerful driver for developing various economic activities related to tourism. Management and open access to cultural heritage are challenges in territorial democracy, enabling local communities to conserve their resources.
There are three main pre-conditions for the development of sustainable tourism of cultural heritage:
a) good knowledge of cultural heritage; b) strong awareness of local people for their protection in any economic activity; c) access to innovative and creative ICT tools to design tourism solutions with a low impact on the environment and a relevance for local identity.
This Uniscape En Route seminar will investigate how it is possible to increase cultural identity and promote cultural tourism in the region, thanks to the knowledge, representation and valorisation of architectural and archaeological heritage and landscape, conceived in a broad sense. A main goal for the "Landscape and Archaeology" conference is to share and compare positive experiences in several working fields involved in tourism, use, preservation and dissemination of landscape & archaeological heritage. In particular, the event will discuss how it is possible to make the pre-conditions and their results SMART (specific, measurable, achievable, realistic and time related).
The seminars provide a forum conducive to sharing best practices (by researchers, designers, SMEs) from their real experiences. The "Landscape & archaeology" seminar will deal to the following four topics.
Smart Landscape
The very concept of Smart Landscape, underlined in this initiative, is of particular interest to rural areas. The interest of people in starting up economic activities and new enterprises linked to agriculture is on the increase. Such a return to agriculture is marked by the need of people to express new ways of creating agricultural enterprise, through new "smart" management frameworks, able to combine new technologies with the preservation of rural resources (landscape, biodiversity, food quality and safety). The multifunctional services potentially provided by the sector (environmental  social and cultural services) represent an important opportunity for traditional rural areas and the new emerging contexts of peri-urban and urban fringes.
A new and interesting concept gaining ground in urban planning research concerns the "playable city", that is, a creative, homely and attractive city, which is able to captivate both its resources and citizens in a shared process of giving new meaning to its landmarks. Here great attention is paid to people, hospitality and openness, because they are the key factors in reconfiguring urban services, places and stories.
"Playable city" could appear as a counterpart to "smart city", because the idea of creative, brilliant and talented territory seems opposed to functional and technological aspects. Nevertheless we are deeply convinced that the two features should be reasonably kept together in order to trigger effective and positive changes. The broad and open theme of playable city is, moreover, fits perfectly with the European Landscape Convention's principles. Disseminating measures aimed at enhancing and developing smart and playable culture in our territory makes it a qualified theatre for our action.
In recent years, it seems possible to promote a local development based on tangible and intangible cultural values and ICT tools, increasing the competitiveness and attractiveness of rural, suburban areas and towns. Heritage and cultural identity become catalysts for creativity and innovation.
Archaeology and digital documentation
Smart archaeology is framed in a complex of activities regarding the whole process of conservation, enhancement and engagement of archaeological evidence. All these aspects are closely related. In recent times, archaeological remains have been involved in several kinds of investigation: form preventive archaeology to excavation, to virtual archaeology or cyberarchaeology.
The seminar will share experiences of sustainable tourism and archaeological heritage protection and will analyse partnerships among several subjects involved in dissemination and safeguarding activities (superintendents, research institutions, governments, sponsors, cooperatives).
A specific aim is to make archaeological science more accessible in order to improve its appreciation and engagement through the use of digital tools (3D model, 3D reconstruction, VR & AR exhibition) as well as experimental archaeology. These kinds of technologies are effective for researchers or non-expert users for all archaeological data: single artefacts, archaeological complexes or cultural archaeological landscapes.
Due to EU policies on cultural and creative industries (Green Paper on the potential of CCIs), some approaches involve the digitalization and virtualization of archaeological heritage. According to the idea of archaeological landscape and evidences as heritage, new life can be breathed into cultural landscapes arising from new functions and values, and contributing to the sustainability of heritage.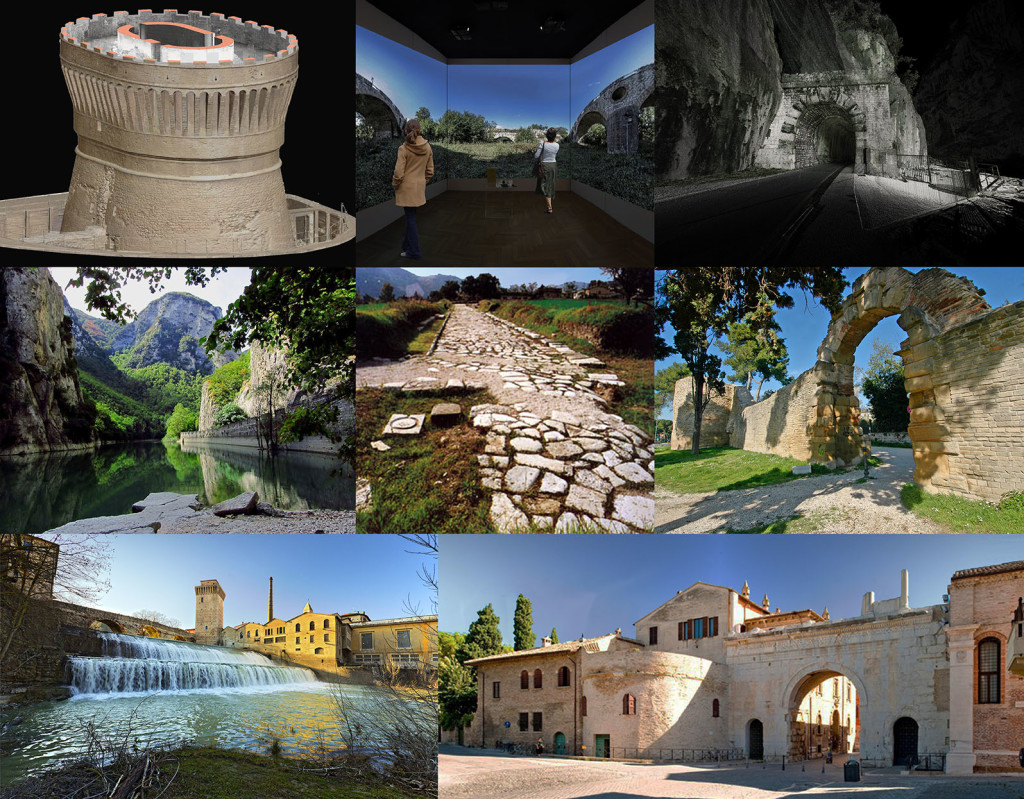 Smart Industrial Archaeology
Technical and productive innovation, often real deindustrialization processes, which affect modern post-industrial societies are a key issue on local agendas (management, development, cultural heritage, economic activities). In particular the sprawling Italian landscape masks a complex of different layers (proto paleo-industrial, infrastructural, manufacturing plants), which are specially dense along the historical roads and the traditional networks of communication. This situation is often found in rural areas, where the lack of preservation of the ancient cultural heritage, tradition and identity presents challenges for the policy makers and land managers. A careful restoration to preserve the identity of places in rural settings could provide an opportunity to these places for the renewal of a symbolic past – paper mills, kilns, mills, warehouses for goods, customs, etc. A renewed social, cultural and territorial context could help to stimulate tourism and preserve important aspects of the cultural landscape of many territories.
Heritage sustainable valorization and cultural districts
The use and re-use of cultural heritage will address the challenges of economic impact and  sustainable tourism. This kind of economic growth arose thanks to the  increase in culturally-centred business which are firmly embedded within the territory and the local community. They are developing through new management techniques, devoted to the tourism experience.
The discussion over strong and weak points of the extra urban cultural districts (E-UCD), especially prevalent in Mediterranean countries, is central to the "Landscape and archaeology" seminar. This concept is not exclusively rural, since it contains small towns, usually important in terms of heritage and tradition. Nevertheless, the countryside distinguishes itself for its valuable landscapes and traditional agricultural or food and wine productions (DOCG, designation of origin etc.). Furthermore, in recent years E-UCDs became destinations for cultural tourists, interested in a holiday experience that combines entertainment, culture, relaxation and also fine cuisine. For this reason, the local supply has been usually developed towards tourism services and the organisation of events.
Best practices often show a public-private partnership with some SMEs engaged in technology, cultural industry and heritage exploitation, developing the concept of cultural districts. Using landscape and cultural identity as a framework, the cultural districts can be a way of overcoming the fragmentation of initiatives and the multiplicity and geographical dispersion of bodies and institutions. Because regional and local development strategies have been successfully integrated in many areas, the En Route seminar will involve: promotion of cultural heritage for business use; development of cultural infrastructure and services to support sustainable tourism; clustering of local businesses and partnerships between cultural and creative industries (CCIs) and industry, setting up of innovation labs; development of cross-border integrated strategies to manage natural and cultural resources and the revitalisation of local economies.