Vitruvius in the Nordic Countries
International Symposium: Classical studies, Archaeology, Art and Architecture
24 novembre 2023 – Mediateca Montanari, Fano
VITRUVIUS STUDIES EXPERIENCE A NEW VITALITY IN THE NORDIC COUNTRIES, ALSO LINKED TO THE RECENTLY PUBLISHED TRANSLATIONS OF HIS 'DE ARCHITECTURA LIBRI DECEM' IN FINNISH AND NORWEGIAN, THAT FOLLOW THE SWEDISH AND DANISH EDITIONS. THE AUTHORITY OF VITRUVIUS AND THE LEGACY OF HIS TREATISE INSPIRED CLASSICAL STUDIES AND THE ARTISTIC AND ARCHITECTURAL CULTURE IN MOST VARIED FORMS FOR GENERATIONS. THE RESONANCES OF IT ARE EVIDENT IN THE EDUCATION OF ARCHEOLOGISTS, ARTISTS AND ARCHITECTS AS WELL AS IN THE MODERN IMAGE OF THE NORDIC CAPITAL CITIES FROM 18TH CENTURY. THE CENTRO STUDI VITRUVIANI IN FANO CALLS FOR NEW STUDIES ON THE TOPIC IN A WIDE RANGE OF DISCIPLINES, FROM CLASSICAL STUDIES TO LITERATURE, FROM ARCHAEOLOGY TO ART AND ARCHITECTURE.

LA FORTUNA DI VITRUVIO VIVE UNA STAGIONE DI GRANDE VITALITÀ NEI PAESI NORDICI. NE SONO PROVA LE RECENTI TRADUZIONI IN FINLANDESE E NORVEGESE DELLA SUA OPERA "DE ARCHITECTURA LIBRI DECEM", CHE SEGUONO QUELLE IN SVEDESE E DANESE. L'AUTORITÀ DI VITRUVIO E L'EREDITÀ DEL SUO TRATTATO HANNO ISPIRATO PER GENERAZIONI GLI STUDI CLASSICI E LA CULTURA ARTISTICA E ARCHITETTONICA IN MOLTEPLICI FORME.
LA SUA INFLUENZA È EVIDENTE NELLA FORMAZIONE DI ARCHEOLOGI, ARTISTI E ARCHITETTI COSÌ COME DELL'IMMAGINE MODERNA A CUI LE CAPITALI NORDICHE ASPIRANO FIN DAL SETTECENTO. IL CENTRO STUDI VITRUVIANI DI FANO HA AVVIATO UNA RICOGNIZIONE DEI NUOVI STUDI SULL'ARGOMENTO, DAI CLASSICI ALLA LETTERATURA, DALL'ARCHEOLOGIA ALL'ARTE E ALL'ARCHITETTURA.
–
PROGRAMMA
15.00 Opening
Dino Zacchilli, Presidente del Centro Studi Vitruviani
Massimo Seri, Sindaco di Fano
Oscar Mei, Coordinatore scientifico del Centro Studi Vitruviani
Introduction
Antonello Alici, Università Politecnica delle Marche, Centro Studi Vitruviani
15.40 Opening lecture
Imparando da Vitruvio: 70 anni di studi sull'archeologia e architettura romana all'Istituto finlandese di Roma
Ria Berg, Director Institutum Romanum Finlandiae, Roma
16.00 On Vitruvius
The Resonance of Vitruvius in the history of Danish architecture
Christoffer Thorborg, Aarhus School of Architecture, Denmark
16.30
Vitruvius, the north, and the genius loci
Victor Plahte Tschudi, The Oslo School of Architecture and Design, Norway

17.00- 17.15 Break

17.15
What about beauty and order? Vitruvius's De Architectura, canons and narratives
Lauri Ockenström, University of Jyväskylä, Finland

17.45
The presence of Vitruvius in Swedish classicism
Johan Mårtelius, Royal Institute of Technology, Stockholm, Sweden

18.15
Vitruvio in finlandese – le opportunità e le difficoltà
Panu-Pekka Hyppönen, University of Oulu, Finland

18:45 Round table
Mario Bevilacqua, Sapienza Università di Roma,
Ingrid Rowland, University of Notre Dame, USA
Oscar Mei, Università degli Studi di Urbino Carlo Bo
Antonello Alici, Università Politecnica delle Marche
–
SCARICA CARTOLINA – VERSIONE ITALIANA
DOWNLOAD LEAFLET – ENGLISH VERSION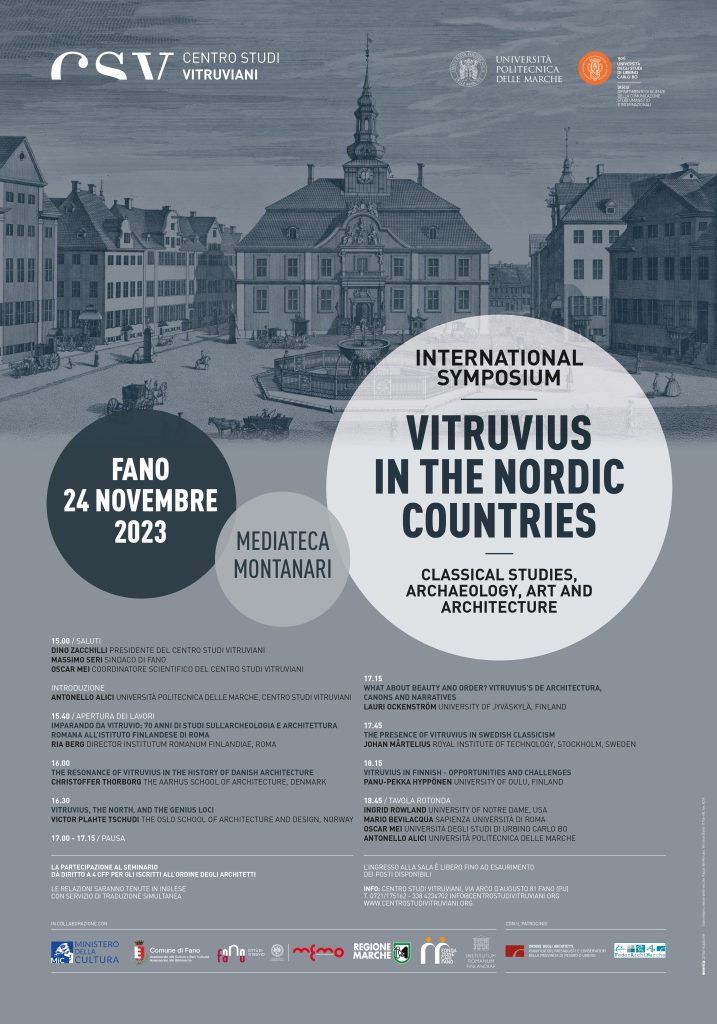 Informazioni
17/10/2023 alle 12:00